Home

Profile

Product Range

Industries

Infrastructure

Our Quality

Custom Manufacturing

Network

Contact Us

Send Enquiry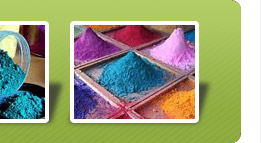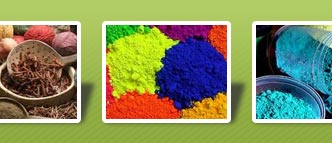 Natural Dyes
Natural dyes are dyes or colorants derived from plants, invertebrates, or minerals. The majority of natural dyes are vegetable dyes from plant sources, for example:- Indigo. The dyes that are obtained from animal sources are called Cochineal, and those that are got from minerals are Ocher.
Historically, natural dyes were used to color clothing or other textiles, and by the mid-1800's chemists began producing synthetic substitutes for them. By the early part of this century only a small percentage of textile dyes were extracted from plants. Lately there has been increasing interest in natural dyes, as the public becomes aware of ecological and environmental problems related to the use of synthetic dyes. Use of natural dyes cuts down significantly on the amount of toxic effluent resulting from the synthetic dye process.
Natural dyes can provide the much needed alternative to the complex world of chemical dyes. These dyes are environmentally sound and can be grown by organic methods. They are inherently carbon neutral. Vibrant colors can be produced from natural dyes.
Advantages of Natural Dyes
The advantages of the new colors were ease and simplicity of use, general reliability with regard to strength and composition, and certainty in reproducing the same color again without trouble.

The interest in natural dyes is growing and these dyes are being perceived to provide an environment-friendly dyed fabrics and garments. Natural dyes can give us the feel of a superior quality "sensory" experience.

The five classic and popular natural dyestuffs are indigo, madder, cochineal, weld, and cutch. These can give rise to almost any color with the exception of a few colors like fluorescent and electric blues. Natural dyes show the properties of very strong yields, resistance to fading, relatively fast colors along with easy availability.

Natural Dyes can make textile industries more competitive, by reducing production costs and eliminating the huge expenses of chemical imports.


Drawbacks of the Natural Dyes
Dependency on chemicals- There is still a reliance on chemicals for bonding the color to the fabric. For example the colorful mercerized cotton that we get to see is the result of treatment with harmful caustic soda.
Ecological Aspect- Just as the dye is natural that does not guarantee that it is also environmentally sustainable. For example pesticides may have been used to grow the crops etc.
Effluents- Some of the effluent from the processes using natural dyes can be as harmful as the ones of synthetic dyes.
Inherent Weakness- Some Uncomfortable questions regarding permanency, application methods and color fastness.
Need for a huge amount of water- Huge amount of water is wasted. Typically, the dye material is put in a pot of water and then the textiles to be dyed are added to the pot, which is heated and stirred until the color is transferred.
Ecologically Sustainable Indigo Dyeing
Indigo dye is an organic compound with a distinctive blue color. Historically, indigo was a natural dye extracted from plants, and this process was important economically because blue dyes were once rare.

In a news that would delight the environmental watchers, there is a Natural dyeing unit that specializes in indigo dyeing. This dyeing process utilizes a vegetable dyeing process and is totally focused on being environmental friendly.

The primary use for indigo is as a dye for cotton yarn, which is mainly for the production of denim cloth for blue jeans. The yarn is first treated with high alkaline soaps instead of the usual caustic soda. It also uses plant extracts that doesn't pose harm to humans, but may actually improve their health. Like the tannin used as a mordant can be a source for powerful antiseptic too. Turmeric rejuvenates the skin and indigo aids in relaxing. The water in each stage gets treated before being recycled for agricultural use. With further development and active support from government, this dyeing process could well be applied in medium sized industrial productions.


Home

Profile

Product Range

Industries

Infrastructure

Our Quality

Custom Manufacturing

Network

Contact Us

Send Enquiry

©
Kolorjet Chemicals Pvt Ltd.
All Rights Reserved (
Terms of Use
)
Developed and Managed by
IndiaMART InterMESH Limited