Home

Profile

Product Range

Industries

Infrastructure

Our Quality

Custom Manufacturing

Network

Contact Us

Send Enquiry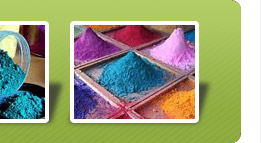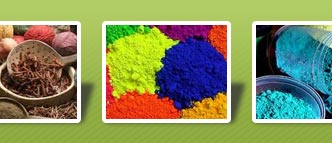 Metal-Complex Dyes
Metal complex dyes are premetalised dyes that show great affinity towards protein fibres. In this dye one or two dye molecules are coordinated with a metal ion. The dye molecule is typically a monoazo structure containing additional groups such as hydroxyl, carboxyl or amino, which are capable of forming a strong co-ordination complexes with transition metal ions such as chromium, cobalt, nickel and copper.
The following table shows a comparison between 1:1 metal-complex and 1:2 metal complex dye:
| | | | |
| --- | --- | --- | --- |
| Dye Type | Levelling Ability | Wash Fastness | pH Range |
| 1:1 metal-complex | Good | Good | 2 |
| 1:2 metal complex | Poor | Very Good | 6-7 |
Metal-complex dyes belong to numerous application classes of dyes. For example, they are found among direct, acid, and reactive dyes. When applied in the dyeing processes, metal-complex dyes are used in pH conditions that is regulated by user class and the type of fibre type (wool, polyamide, etc). The pH levels for wool typically ranges from:
Strongly acidic (ranging from 1.8 - 4 for 1:1 metal-complex dyes)
Moderately acidic neutral (ranging from 4 - 7 for 1:2 metal-complex dyes
Types of Metal Complex Dyes
The classification of metal complex dyes is dyes is based on the basis of number of dye molecules which are complexed with one metal ion
1:1 metal complex dyes: In 1:1 metal complex dyes one metal ion is complexed with one dye molecule.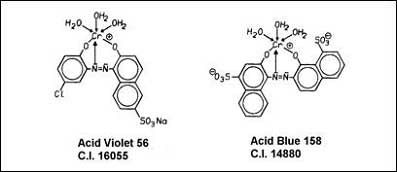 1:2 metal complex dyes: In 1:2 metal complex dyes there are two dye molecules which are complexed with one metal atom.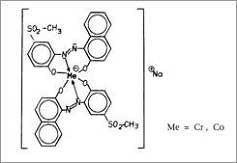 Features of Metal Complex Dyes
Medium washing fastness.
Excellent, light-fastness.
Shows very good level dyeing and penetration characteristics.
Can cover up for the irregularities in the substrates.
Application of Metal Complex Dyes
Metal Complex Dyes is using for a variety of applications like wood stains, leather finishing, stationery printing inks, inks, coloring for metals, plastic etc. As this dye is classified into two categories and both have different applications.
1:1 metal complex dyes:-
These dyes have good leveling and penetration properties and are particularly suitable for application on carbonized wool. These dyes are applied under a strongly acidic bath at a pH of 1.8 –2.5 with sulfuric acid or at a pH of 3-4 with formic acid, therefore these are not suitable for the blends having cotton component. Glauber salt is used as exhausting agent and organic leveling agents are used to
1:2 metal complex dyes:-
These dyes are subdivided into two subgroups based on the solubilising groups present in the dye molecule, these dyes shows moderate migration properties on nylon but very good overall fastness properties, because metal complex dyes not only attach to nylon with ionic linkages, but also with coordinate bonds. The two subgroups are:
Weakly polar dyes
Strongly polar dyes
Home

Profile

Product Range

Industries

Infrastructure

Our Quality

Custom Manufacturing

Network

Contact Us

Send Enquiry

©
Kolorjet Chemicals Pvt Ltd.
All Rights Reserved (
Terms of Use
)
Developed and Managed by
IndiaMART InterMESH Limited