Home

Profile

Product Range

Industries

Infrastructure

Our Quality

Custom Manufacturing

Network

Contact Us

Send Enquiry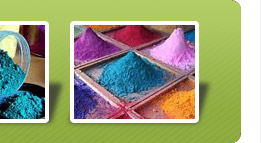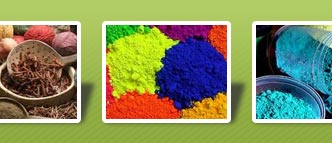 Colorants for Printing Inks
We all use inkjet inks in our printers of various hues and application. The most vital part of the inkjet printer is the ink that we use in the cartridge. In fact the determinants of the quality of printing are the type, quality, and the quantity of ink in the cartridge. Inkjet inks are classified into the following four types of categories:
Water based
Oil-based
Solvent-based
Curing
Hybrid ink
Buying Tips
Obey the rules-
First and foremost is to obey the printer manufacturer's advices.
Watch out for compatibility-
The association of ink and paper is a complex one and difficult to optimize. It has been often seen that bargain-priced inks or papers leads to results that is not upto the mark.
Working ink-paper pairs-
Normally the following combination has been seen to work better:
Dye/ colorant + coated paper
Pigment + nanoporous paper
Smart Choice between pigments and dyes-
Remember the choice you make is some sort of a delicate balance between quality of the color and the factor of longevity. Dyes are the way to go if your criteria is good life and and color.
See the color gamut comparison charts in proper perspective-
Do not hesitate to ask for direct comparison prints on exactly the type of media that you would be using.
Water based inkjet inks
Water based inkjet inks are very common inks that are used for printing. They are generally used for application in paper. Basically, the water or aqueous ink formulations comprises mainly of a carrier fluid that is able to keep the liquid in a liquid state thus acting as a sort of carrier for the fluid. They do not contain any volatile organic compounds in them and has a very low level of toxicity.
Water-based inkjet inks as a product can be broadly classified into two general categories:
Dyes for Water Based Inkjet Inks
Pigments for Water Based Inkjet Inks
The diagram given below illustrates both the type:-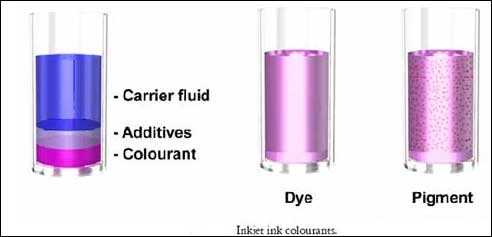 This diagram makes clear that dyes get fully dissolved in the carrier fluid whereas pigments are fine powders of solid colorants and get dispersed in the color fluid.
To understand the role of dyes and pigments in Water based inkjet inks, first there is a need to look at the basic ingredients of a water based inkjet inks.
| | | |
| --- | --- | --- |
| Ink component | Use | wt-% |
| Colorant | It gives the ink it's basic function - absorbing of light of the specific wave length band | 2-8 |
| Carrier fluid | Suspends or helps in dissolving the colorant | 35-80 |
| Surfactant | Helps to promote wetting by lowering the surface tension | 0.1-2.0 |
| Humectant | Helps in inhibiting evaporation(mixes with the carrier fluid) | 10-30 |
| Penetrant | Helps to penetrate ink in the paper surface | 1-5 |
| Dye solubilizer | Helps to promote dye solubility in the carrier fluid | 2-5 |
| Anticockle additive | Checks interaction with paper fibres that can very well lead to paper cockle | 20-50 |
Pigment or Dye: The Great Debate
There has been a great debate regarding which medium is better whether dyes or pigments. Though there is no conclusive evidence regarding the superiority, but both Dyes and Pigment-based inks have their plus and minuses. While water based inkjet inks using dyes has been a traditionally favoured process. But with changing times pigment based inks are getting increasingly accepted as a choice. The following sections give some comparisons between the two:

Dye Based Ink
Pigment Based Ink
Pluses

Soluble and stable
Vast color pallete
Enormous range
Bright and intense color
Dyes are far efficient in Graphic printing

Larger color pallete
Bright and vibrant colors

Pluses

Water fastness shows marked improvement
Improved light fastness
Distinct improvement in Archivability
Clarity of Print
Pigments good in Outdoor Application

Minuses

Shows tendency for fading
Shows limited resistance to water
Nozzle crusting

Minuses

Range limited
Tendency to clog
Expensive
Colors not that vibrant and bright

Latest Trend: Manufactures are now opting for combination inks with improved light and water fastness but not at the cost of color intensity.
Home

Profile

Product Range

Industries

Infrastructure

Our Quality

Custom Manufacturing

Network

Contact Us

Send Enquiry

©
Kolorjet Chemicals Pvt Ltd.
All Rights Reserved (
Terms of Use
)
Developed and Managed by
IndiaMART InterMESH Limited